We commit ourselves to promote healing and wholeness, to weave care and compassion into the web of life, to pursue justice and human dignity in solidarity with those made poor, the powerless and those who are oppressed, to witness to the integrity of all creation through MMS training, all manner of healing ministries and in a variety of other ways.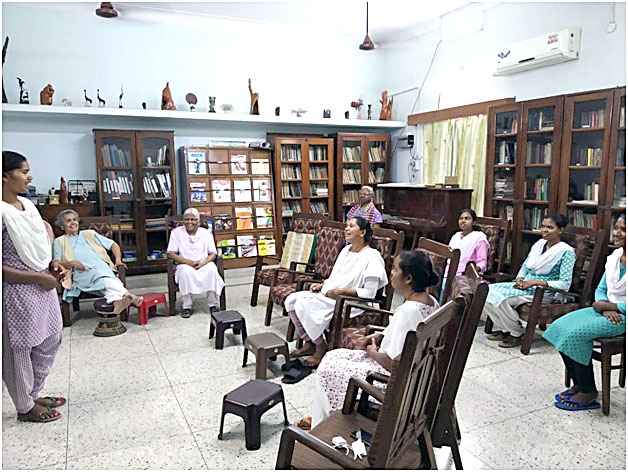 Sisters and MMS students having Bible quiz Deepanjali, Patna
Integration into MMS Way of Life
Initiation of young women to be members of Medical Mission Sisters Society is a preparation to be women of God and women who reach out to create one world through wholeness and healing of ourselves, our people and our earth. Women who give of ourselves with compassion and commitment to be channels of God's healing energy. This training called Candidacy (novitiate) in India began in Salisbury Park, in the Pune Cantonment area, in 1951. It moved up to Sandipani hilltop in 1959. When insertion among people became a reality for us in our ministries, in 1979 the Candidacy was moved to Maner, Bihar Unit, to be among the people and be present to their needs. As an international Society, we have at present five sisters missioned in Africa, U.K., North America and Latin America. In April this year, one sister is part of a new beginning in Hanwell, London: an International Community for the purpose of Intercultural Living.
Our Society is also blessed with 80 Associates, women and men of many nations who share our values and have committed themselves to live our mission of healing presence.
We are also interconnected through our local, national and international meetings, Reports, and Newsletters.
Growth is a lifelong process. In order to continue to enter into the liturgy of life with integrity and participate in the birth of a new world reality, every seven years we MMS are given the time and opportunity to be renewed and refreshed by the Spirit for ourselves as persons and for our work among the people of God.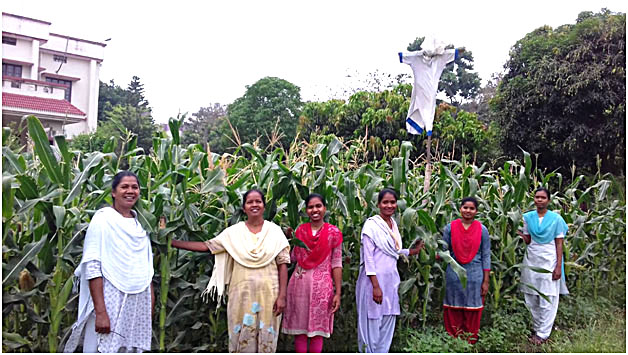 Sisters and MMS students delight  seeing the fruit of the earth Deepanjali, Patna!
Professional Training
We are nurses, physicians, para-medics, teachers, midwives, counselors, community organizers, lawyers, pastoral workers, spiritual directors, theologians, herbalists, practitioners of holistic health, secretaries, accountants, administrators, social workers members of "Havens for Ecological and Alternative Living"  involved in various ministries –  through health care and education; wholeness and wellness programs; the development of women; work for justice; worship and spirituality; and music and song.
Examples of the range of services the Sisters do in different countries:
In India, the Sisters run the Center for Healing and Integration, to train the people low to get low-cost health care through natural resources.
In Pasco County, Florida,  they run a community-based program to connect the unemployed with potential employers.
In Udenhout, the Netherlands they have a Learning Center for Ecological Spirituality.
We welcome all those who are fire and flame to follow Jesus the Healer and walk in the footsteps of our Foundress, Anna Dengel.
Contact:
Vocation Promoter
Medical Mission Sisters,
Sandipani, Bibwewadi,
Pune 411 037
Ph.(020)24210743/24230037
Email: punemms@gmail.com
Vocation Promoter
Medical Mission Sisters,
Daya Deep, Kurji
Holy Family Hospital
P.O. Sadaquat Ashram,
Patna 800010 
Ph.( 0612) 2270194 
Email: pat_khfh94@dataone.in
Vocation Promoter
Medical Mission Sisters,
Holy Family Hospital, Mandar
Ranchi Dt 835214, Jharkhand 
Ph. (06531) 224580/291864
Email:
holyfamilymandar@gmail.com